Jacksonville FL
Well Drilling
WELL DRILLING Jacksonville FL
If you are looking for a local well drilling company to take care of your well drilling service, we would love to work with you! The professionals well drillers at Jacksonville Well Drilling specialize in water well installation, and have experience constructing all types of residential water wells and commercial water wells, including:
Residential Wells

Agricultural Wells

Industrial Wells

Irrigation Wells - for watering your Lawn and Landscape

Geothermal Wells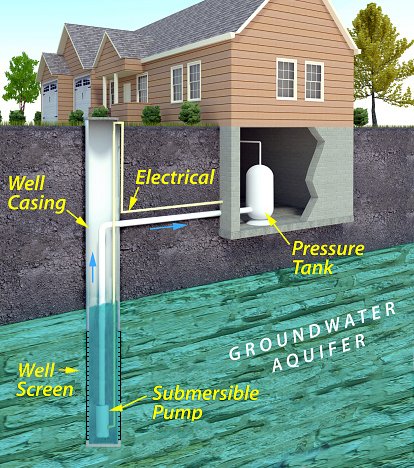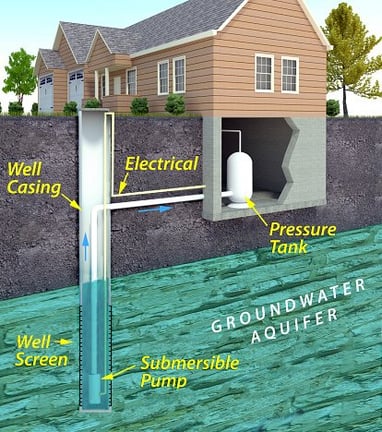 In addition to being one of the best water well drilling companies in Jacksonville FL, we also provide complete water well services, including:
Aquifer Performance Tests

Water Well Rehabilitation

Environmental Investigations

Well Abandonment

Water Well pump servicing - pump repairs and well pump installation
Water Well Drilling Experts
The professionals at Jacksonville Well Drilling have the necessary equipment and expertise to make sure your well drilling is done right! Whether you need an artesian well, which is a deep water well reaching the Floridan Aquifer System, or a shallow well, we can handle things for you. We know the geology and the geography in the area, and our licensed and insured professionals have the right equipment and experience to install your water well safely and correctly.
Types of Water Wells
There are four basic types of water wells in the Jacksonville Florida area: Floridan Aquifer Wells (Artesian Well), Intermediate Well (Salt & Pepper Wells), Rock Wells/Gravel Pack Wells. Which well is best for your situation will depend on your location, budget, and the purpose for the well. Some wells are best suited for drinking water for your home or business, while others may be perfect for lawn and irrigation.
Artesian Wells & Other Wells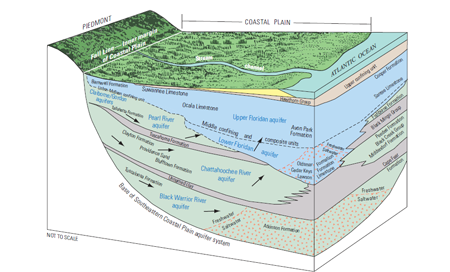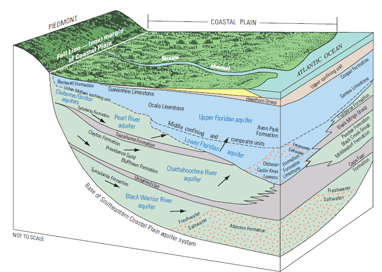 How deep is a well in Jacksonville Florida?
The depth of the well will depend on the property location, and the type of well you select.
Floridan Aquifer Wells (Artesian Wells) - Wells tapping into the Floridan Aquifer System may reach 1,025 feet below land surface in Jacksonville, FL, (S400FLORDN) national aquifer. Water from one of these wells is highly dependable, and comes from the Floridan Aquifer System, which provides a large volume of safe and dependable water, as discussed below.
Intermediate Wells (often called "Salt & Pepper" wells) are usually 3″ or 4″ in diameter, and are drilled down to 220-320 feet. However, these wells are not available in all areas, may contain sulfur, and can sometimes produce sand. These intermediate wells usually require a deep well jet pump due to the deep water level they usually have.
Rock Wells - These wells can be drilled with 2″, 3″ or 4″ casing, and they are drilled to a depth between 80 - 200 feet depending on the location. Sometimes these wells have significant mineral content, often iron. However, these wells produce safe drinking water that must be pumped from the ground.
Screen Gravel Pack Wells - These wells are generally drilled with 2″, 3″ or 4″ casing and have a screen installed due to the coarse sand and/or shell. This well is drilled when a rock well cannot be obtained due to absence of rock in the area or not enough water in the rock. The depth for this well ranges anywhere from 60′ to 150′ depending on the area. This well requires a pump to obtain the water. It produces safe drinking water and is typically used for irrigation. It can usually be drilled in one day.
Call us today to speak with one of our professionals. We would love to discuss your situation and needs, and provide you with the best solution for you and an estimate to get the work done!
Florida's Aquifer System
Did you wonder why so many of our homes in Jacksonville Florida rely on water wells?
We live on top of one of the most productive aquifers in the world - the Floridan Aquifer System. It is one of the principal aquifers in the entire United States, and covers approximately 100,000 square miles of the southeastern United States, including all of Florida and parts of Georgia, Alabama, Mississippi, and South Carolina.
Water-supply wells were first drilled in the late 1880's and the Floridan Aquifer System is currently the primary source of drinking water for nearly 10 million people! Water from the Floridan Aquifer System is also used for agricultural irrigation and industrial purposes which accounts for nearly 50 percent of all withdrawals from the aquifer.
The Floridan Aquifer System acts as a single aquifer for most of the area, though rocks of lower permeability create hydrologic separation between the upper and lower portions of the aquifer. The majority of freshwater used for our water supply is contained in the Upper Floridan aquifer. In Southern Florida, the Upper Floridan aquifer is brackish and used as a reverse osmosis source water, blending with shallower fresh Biscayne aquifer groundwater, and aquifer storage and recovery. In our area - northeastern Florida and Georgia - the Lower Floridan aquifer contains fresh to brackish water, while in Southern Florida it is saline and used to dispose of effluent from wastewater treatment processes.
Withdrawals from the Floridan Aquifer System began in 1887. The City of Savannah, Georgia, was the first to supplement its surface water withdrawals from the Savannah River with groundwater. No pumps were needed at that time - the artesian heads in the system were 40 ft above land surface! Jacksonville Florida began developing the Floridan Aquifer System around 1910. Over time, the number of wells and the finished depths of those wells increased. Industrial pulp and paper mills began withdrawing large amounts of water in the late 1930s. By the 1950s, all domestic, municipal, and about half the industrial/agricultural needs of Orlando, Florida, were from the Florida Aquifer System. Groundwater withdrawals from the aquifer have increased steadily from 630 Mgal/d in 1950 to 3,430 Mgal/d in 1990. Beginning in the 1990's, permitting and regulations curtailed the year-on-year increases in withdrawal; however, in 2000 the withdrawals increased to 4,020 Mgal/d due to extreme drought in the Southeastern United States. A lot of that increase was due to agricultural demand. Further history of groundwater development of the Florida Aquifer System is available in Bush and Johnston (1988) and Marella and Berndt (2005).